Don't fall-la-la-la-la victim to a break-in this holiday season. Deter burgulars with these 8 tips!
---
---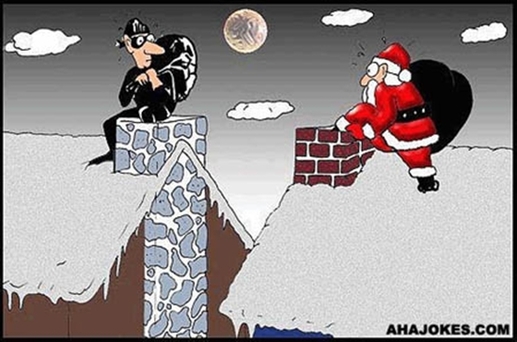 Whether it's because of all the Christmas cookies or the anticipation of going skiing with the family, we all get excited during the holidays. But as fun as the holiday rush can be, it's easy to lose track of some of the most important things–like your home's safety.
Break-ins are far more likely to occur during the holiday season, even in nice neighborhoods. Here are some of the best ways to keep burglars at bay this holiday season.
1. Keep gifts under wraps.
…and we don't mean paper. Make sure your pile of presents isn't visible from the street or sidewalk. While you may want to show your tree off in the window, such a display can make your home a target for theft. Instead of drawing attention to your windows, wait until the big day to bring out the gifts. Or, if you just can't wait, keep your shutters or window treatments closed so people can't see inside.
2. Don't be left in the dark.
Install motion sensor lighting in and around your house to thwart those who are up to no good, even when you're not at home. Try out a landscape lighting sensor pack that will automatically turn on your outdoor lights at dusk and turn them off at whatever time you set it for.
3. Get to know your neighbors.
This is especially important if you plan to be out of town for the holidays. If you're going to be gone for an extended period of time, ask neighbors, relatives, or close friends to keep an eye on your house and let you know if they see anything suspicious.
4. Keep track of packages.
As more of us rely on online shopping, the deliveries during the holiday season are sometimes hard to keep track of. But you don't want to leave mysterious boxes on your doorstep. To eliminate the risk of "porch-pirating," have your packages delivered to the office. Or, if you can't do that, contact the delivery company and ask to have the delivery carrier place the package out of sight. No matter which option you choose, make sure you track your packages travel progress and, if you can, plan to be home when they arrive.
5. Don't leave clues outside.
You've wrapped the gifts and placed them out of site, but once Christmas comes and you open the gifts, it's important to conceal your trash. Resting a box from a laptop or big-screen TV next to your garbage can is like installing a neon sign that says, "Gifts for the taking! Come to this house!" Break down the boxes, and make sure they're not exposed when you discard them.
6. Keep it private.
As tempting as it is, try not to partake in holiday overshare on social media. We understand if you're excited to share that the family is taking a fabulous ski trip to Vail this holiday, but don't announce it before you leave: wait until you're back home to share pictures. By announcing your upcoming plans, you're letting the cyber community (and potential thieves) know your house is going to be empty.
7. Don't forget to lock up.
Keep doors and windows locked; a basic step in home security and a frequently forgotten one. Even if you're just running a quick errand or picking your child up from school, keep the house locked up each time you leave. The holiday season is a perfect time to beef up your home security or get that extra deadbolt you've been wanting for the back-door. What better gift to give your family than safety?
8. Invest in a security system.
Installing a security system is the most effective way to protect your home from intruders. This holiday season, there's a system for every family and you are bound to get a good deal as the end of the year approaches.
As your to-do list stays fills up this holiday season, take just a few extra steps to keep Grinch types from targeting your home. Then enjoy a happy and safe holiday with your family!
---