Travelling this holiday season? Keep your home and family safe with these tips!
---
---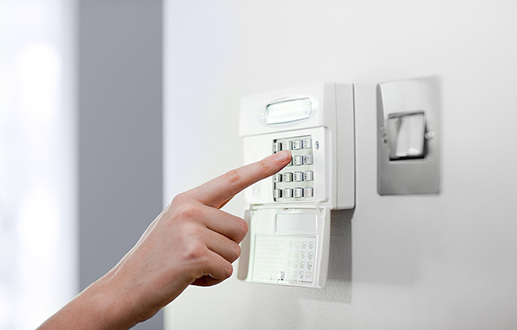 It's the most wonderful time of the year – and a great time for travelling. Whether you're visiting relatives, heading to the mountains or lounging in the tropics, make sure you prepare your home for your time away.
Our top 10 holiday travel tips
Put timers on your indoor and outdoor lights
Plug your lamps, outdoor lights and Christmas tree into automatic timers and set them for key times during the evening. This will make your home look lived in.
Lock ALL your windows and doors
We know, we know, this one's obvious – however, people sometimes forget. Not only an open window a security problem, but it's also bad for your house. Drafts from cold air can cause your furnace to kick in, and it can warp your cabinets and freeze the water in your pipes. Double check your windows now and save yourself money in the long run.
Turn off your main water supply
Water freezes and expands during the winter – especially when it's not moving. To protect your pipes, consider shutting off your house's water supply and then, emptying your taps. You can also add a bit of antifreeze to the water in your toilet bowl to stop it from expanding and cracking the porcelain.
Leave your blinds in their regular position
In the not-so-distant past, everybody closed up their blinds before they left town so thieves couldn't see in. Now, however, we recommend keeping your window coverings at an everyday height. It will make it look like someone's home AND help your neighbours see what's happening in your house.Let your neighbours know where you're going
Pass on your flight details and contact information, and ask them to keep an eye out for mischief. You can also ask them to park in your driveway to make it look occupied.
Clean up your yard and lock up your shed
If you have kids, you probably have outdoor toys and equipment. Pick up your playthings and other landscaping tools, and lock them all away. It'll be less tempting for an opportunistic thief.
Get a family member or friend to visit
Ask them to come by regularly to bring in the mail, shovel the walk and check the furnace. Your friend can catch problems right away so that you won't come home to an unpleasant surprise.
Leave your expensive things at home
Do you really need to take your laptop, camera and wedding ring? Consider leaving your stuff at home and taking less expensive versions on the plane. Store your valuables and important papers in a safe space, such as a lockable home security box, storage container or a security deposit box at a bank.
Make copies of your important documents
If you're leaving the country, you should bring extra copies of your family's passports, health information, vehicle registration and insurance policies. For some countries, you'll need your son or daughter's birth certificate and/or adoption papers. Check with the country's embassy for more information.
Lastly, if you're travelling alone with your child out of Canada, you'll need a signed letter of permission from their other parent, just in case.
Don't update your social media accounts
When you log on to Facebook and Instagram, you can really never know who's seeing your pictures and status updates. Play it safe – send your vacation pics by email or wait until you're back home to go online.
Make sure your insurance is up-to-date
Before you leave town – whatever the season – remember to talk to your insurance broker. You'll need enough coverage for all your belongings and you'll need to follow the vacancy rules on your insurance policy to keep it active.
https://www.sgicanada.ca/news?title=travelling-for-the-holidays--keep-your-home-and-family-safe
---