Oh, fire hazard! Oh, fire hazard! Keep your home safe with these preventative tips for your Christmas tree this season:
---
---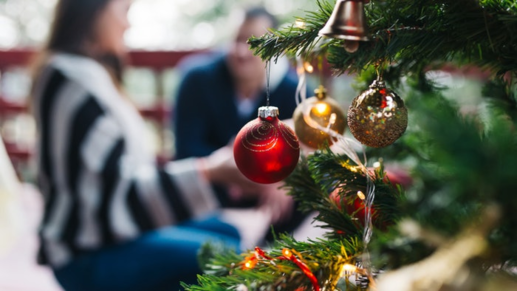 10 Christmas Tree Safety Tips, Since House Fires Are Not Very Merry!
Can you imagine cozy December days being the same without a Christmas tree? There's magic inherent in these holiday conifers — the twinkling lights, the ceremonious decoration, the beloved tradition. I mean, 'cmon, there are entire carols devoted to the Christmas tree. The prominence of this tradition, however, is precisely why there is such a need for safety tips for Christmas trees.
According to the National Fire Protection Association, Christmas trees were the first item ignited in an average 210 reported home fires annually between 2009 and 2013. Oh Christmas tree, Oh Christmas tree. Thy leaves are so . . . flammable?
The statistics certainly merit attention. The estimated annual property damage caused by Christmas tree fires comes in at a daunting 13 million dollars, cites The Christmas Tree Association.
Clearly, these grim statistics are a fire cry from visions of sugar plums dancing in our heads. The silver lining here is that awareness leads to action, and action leads to prevention. You can keep your Christmas tree tradition and keep your family safe, too, by following these simple safety tips.
1 Choose Your Tree Wisely
You know how you tap on cantaloupe at the supermarket to decide whether they are the ideal ripeness? Well, think of Christmas tree as a holiday cantaloupe (stay with me on this one). Stacey Palosky, a spokesperson for the U.S. Consumer Product Safety Commission, recommended to HGTV that buyers conduct a three-part stress test to find fresh — read: not dry and extra flammable — trees. First, tug at the needles; they shouldn't pull off easily, and should bend as opposed to snap. Second, shake the limbs. Only a few needles, if any, should fall. And finally, inspect the trunk bottom to make sure it's sticky with sap resin.
2 Don't Put Your Tree Near A Heat Source
Christmas trees don't need to be warm and cozy. In fact, you should always place your tree in a spot that is at least three feet away from any heat source — think fireplaces, lit candles, radiators or heat vents, space heaters and the like.
3 Keep Your Tree Watered
A dry tree is much more likely to go up in flames than a well-hydrated one, according to the Christmas Tree Association, so don't underestimate the importance of keeping water in the tree stand. That means adding water daily so that the tree doesn't dry out. To gauge whether or not your tree is at optimal hydration level, refer to the first two steps of the aforementioned stress test — tug on a need to see if it pulls off or shake a branch to see if a flurry of needles fall. If so, your tree is dry.
4 Don't Use Lit Candles To Decorate Your Tree
Just don't, OK? You're setting yourself up for a Christmas disaster of Griswold family proportions.
5 Check The Label On Your Lights
Make sure that all lights you put on your tree have cleared the strict standards of an independent testing laboratory, cautions UL, an independent safety science company and the industry standard for these tests. Any lights that have been should be marked with a holographic UL label. A red label means the lights are for mixed use, while a green label means they are for indoor-use only. While you're at it, read the manufacturer's instructions to make sure you don't miss any important warnings about how many lights can safely be connected.
6 Get Rid Of Any Lights That Don't Work
As tempting as it can be to just ignore that one string of lights with a few busted bulbs, you should err on the side of safety and replace it. Any string of lights that show signs of wear and tear such as worn cords or loose bulbs should be given the ol' heave-ho in favor of a shiny, safe new set.
7 Keep Electric Lights Away From Metal Trees
If you have an artificial tree that is metal, steer clear of electric lights. As in, never, ever, ever put them on your artificial tree if said artificial tree is metal. According to the National Fire Protection Association, the lights can actually charge the tree and lead to electrocution. Scary, right?
8 Turn Off Those Christmas Tree Lights Every Night
As much as you love the idea of your Christmas tree twinkling in the window all night long and casting a cozy glow over everything, it's just not safe. To minimize the chance of a Christmas tree fire starting in the night, you should get into the habit of turning off your Christmas tree lights every night.
9 Ditch Your Tree Once It Dries Out
A dry tree is a major fire hazard, so you don't want one sitting around your house. How do you know it's ready to go? As soon as the needles start falling, your tree has outlived its safety. Besides, it's super annoying to constantly sweep up those needles once they start falling anyway.
10 Take Basic Safety Precautions
Even if you follow all of these safety tips, there's always the off-chance a freak fire could still occur. So be prepared. For starters, make sure your tree isn't blocking an exit — not only might you need that exit, but emergency response personnel may need it if they are called in. And always have a fire extinguisher close by and ready to go.
By Julie Sprankles
---