Protect Yourself From Theft and Fire Hazards This Holiday Season
---
---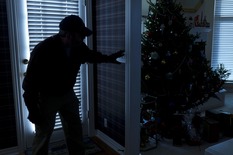 The holidays are meant to be relaxing and enjoyable. However, incidence of fire and theft claims rise over this exciting season. Many of these claims are preventable so taking a few extra precautions can assure you and your family have a safe and happy holiday season.
More and more people are switching to shopping online instead of braving the crowds at the mall. This can potentially create an easy target for thieves as these deliveries are often left at a front or side door when you are not home. If you know you will be away while your packages are delivered consider having them sent to your office or maybe the home of a trusted neighbour. Many delivery companies offer delivery updates via email or text message. Keep up to date with your package's progress so you can plan to be home when it arrives.
Shopping online can be both safe and convenient but it is a good idea to track all of your purchases online or on your statement in the mail. Make sure you are not charged for something you did not purchase. This may be easiest if you use the same credit card for all of your online shopping. Be wary of shopping online when on unsecured public Wi-Fi hotspots as hackers are more able to access personal information. Video capabilities on phones and other devices can also make it easier for thieves to re-watch and work out your passwords and keystrokes over several views.
Your home may be at a greater risk during the holiday season as well. For example, Christmas trees are often placed near windows and this can give thieves the opportunity to see the gifts underneath. It may be a good idea to keep these packages out of sight until closer to Christmas. To create the illusion of someone being home you can put your indoor and outdoor lights on timers. Also if you normally keep a key hidden outside for emergencies it may be a good idea to switch the location or even remove it over the holiday season.
Your vehicle can also be a potential target for thieves. Approach your car with your keys in hand, and always be aware of who is around you. Talking and texting on your cell phone can distract you from your surroundings. Never leave valuables such as wallets and purses in your vehicle. If you leave presents or other packages in your vehicle put them in your trunk or make sure they are out of sight.
Business risks increase not only with a greater risk of shoplifting but also in the rush to hire new employees to cope with the holiday rush. Business owners need to still be thorough with criminal, reference and even ethics checks on these new employees. Security cameras and security tags can also help to combat these risks.
Fires can also be a problem around the holidays. Candles and wrapping paper are enemies and shouldn't be left in a room alone together, especially if children and pets involved. It is also important to keep your Christmas tree watered so that it does not dry out and become a fire hazard. The longer your Christmas tree is in your house the more of a fire risk it becomes. Even a fresh tree begins to dry out after 10-14 days in your warm home. Your tree should be kept away from heat sources. When your tree begins dropping lots of needles it is time to get rid of it.
Electrical fires are another potential hazard. Do not overload your outlets or extension cords and be sure that you are using proper lights for both indoors and outdoors. Never burn wrapping paper, gift boxes, or other gift wrappings in your fireplace. They burn too quickly and produce too much heat.
It is also recommended to have a fire extinguisher in the kitchen at all times regardless of cooking skill. Do not leave cooking food unattended and make sure your smoke detectors are in good working order.
Take a few extra precautions to avoid being an easy target for theft. Be careful with your decorations and cooking to avoid a devastating holiday fire. Stay safe and happy this holiday season.
For a video demonstration on how quickly a fire can spread with a dry Christmas Tree versus one watered regularly click here.
Source: ILSTV Staff http://www.ilstv.com/5-common-types-holiday-theft/
---