What Are The Ten Most Stolen Vehicles In Canada?
---
---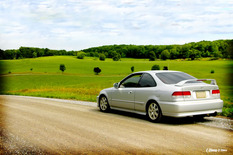 In Regina, stolen vehicles used to be a major problem. You don't hear about it as much in the media anymore. We've obviously cleaned up our act! Do you ever wonder if your car is a target? Are you uneasy about leaving your vehicle overnight at a friends house because you think it might be gone in the morning? Well this list is for you!
From December 2012, according to the Insurance Bureau of Canada, the 10 most stolen vehicles in Canada based on theft claims submitted to insurers are:
1. 2000 Honda Civic SiR
2. 1999 Honda Civic SiR
3. 2006 Chevrolet TrailBlazer SS
4. 2007 Ford F350 SD
5. 2005 Cadillac Escalade
6. 2006 Ford F350 SD
7. 2002 Cadillac Escalade
8. 2005 Ford F350 SD
9. 2004 Ford F350 SD
10. 1999 Acura Integra
If you're driving a 2000 Honda Civic SiR well I think I'd be using the club regularly. Never leave money, iPods, valuables, sporting goods, etc. in your car overnight. Don't give these hooligans a reason to break into your car!
What about the least stolen vehicles? Yup, they have a list for that as well.
Again from the Insurance Bureau of Canada, the following are the least likely to be stolen vehicles (model year 2011) in Canada:
2011 Audi A4 Quattro
2011 Buick Regal
2011 Ford Fiesta
2011 Hyundai Tucson
2011 KIA Rondo
2011 Audi Q5
2011 Chevrolet/GMC Equinox/Terrain
2011 Hyundai Elantra
2011 Nissan Murano
2011 Nissan Rogue
I know what you're thinking, what about Saskatchewan?
We couldn't find data on Saskatchewan but we did find several other provinces:
Alberta's Most Stolen Vehicles
2007 Ford F350 SD
2005 Ford F250 SD
2007 Ford F250 SD
1999 Dodge/Plymouth Neon
1999 Acura Integra
2005 Ford F350 SD
2006 Ford F350 SD
2006 Ford F250 SD
2004 Ford F350 SD
2000 Ford F350 SD
Ontario's Most Stolen Vehicles
2005 Cadillac Escalade
2002 Cadillac Escalade
2000 Honda Civic SiR
2004 Cadillac Escalade
1999 Honda Civic SiR
2003 Cadillac Escalade
2003 Acura RSX
2002 Acura RSX
2004 Hummer H2
2010 Acura MDX
Quebec's Most Stolen Vehicles
2000 Honda Civic SiR
2009 Toyota Venza
2009 Toyota Highlander
2010 Toyota RAV4
2004 Subaru Impreza WRX
2006 Ford F350 SD
2005 Ford F250 SD
2003 Volkswagen Golf GTI Hatchback
1999 Acura Integra
2008 Toyota Highlander
Atlantic Canada's Most Stolen Vehicles
2000 Chrysler Cirrus
2004 Buick/Chevrolet/GMC Rainier/Trailblazer/Envoy
2006 Ford F350 SD
2003 KIA Sorento
2000 Chrysler/Dodge Intrepid
1999 Honda Civic Si Coupe
2001 Acura Integra
2003 Toyota Celica GT/GT-S
2003 Audi A4 Quattro
2000 Ford F250 SD
If you have questions about what to do when your vehicle is stolen, package policy's that will cover theft, or anything at all insurance related please ask! We get a kick out of helping people, really we do!
---